Estimated Arrival: Between Dec 02 and Dec 13. *ETA to USA Only
Shipping & Returns: Free Shipping. All The Time.
Storm LGR Extreme passed professional testing and it feedbacks an amazing outcome. This brand new Storm LGR Extreme which contains state-of-the-art innovation LGR technology obviously beats similar dehumidifiers of world-renowned brands.
Built compact – lightweight – small in size and with high capacity The Storm LGR Extreme dehumidifier, will protect your household items, your home's structural integrity and you and your family from the effects of high humidity.
The Storm LGR Extreme dehumidifier is built to tackle after flood restoration problems. House flooding does not always have to be rainwater flooding indoors, leaking or overflowing sink or bath tabs can cause flooding indoors. it important to dehumidify the space especially after you have cleared all the water. Dehumidification will help dry the absorbed water in the walls, floor, and household items.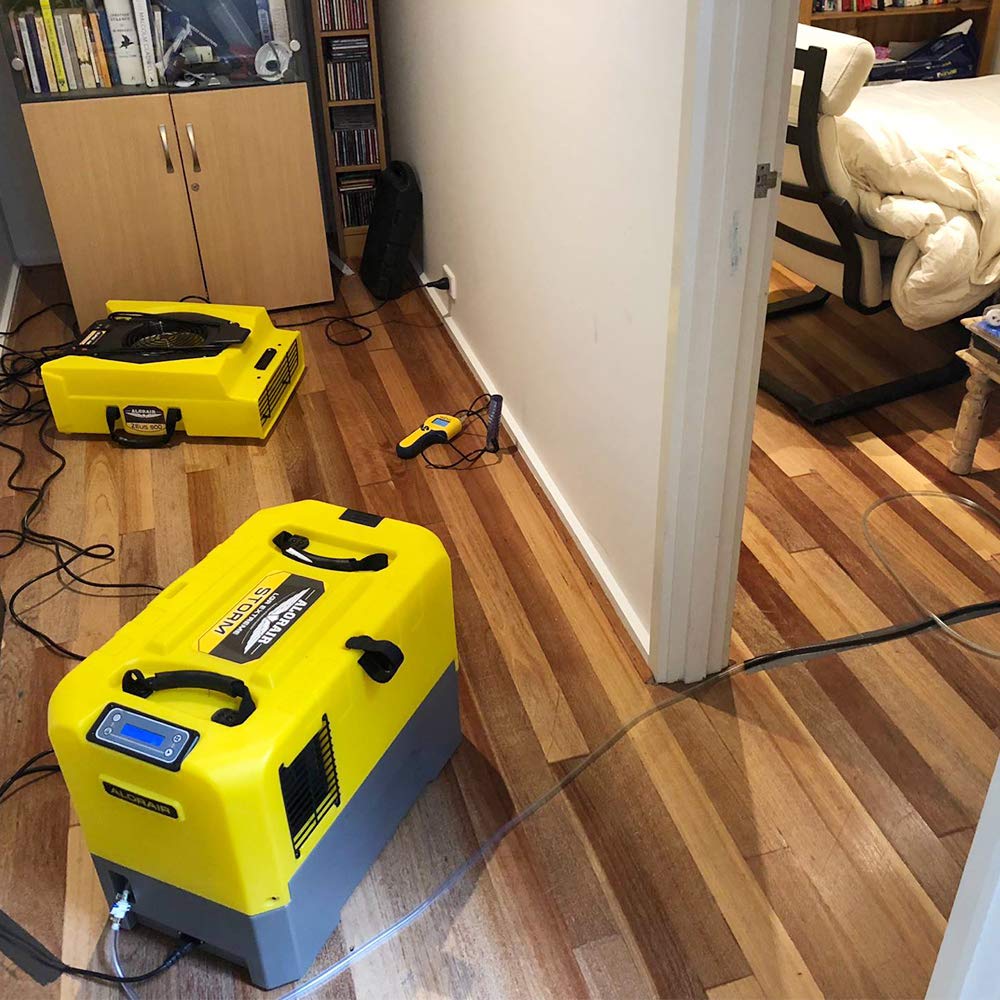 Key Features:
Automatic humidistat control
Automatic defrosting system.
Memory Starting.
Easily removable and washable air filters.
Water-Full protection.
Drainage: heavy-duty condensate pump.
Quick Access to Pump and Main Board.
Small, compact and lightweight.
Rare earth alloy Tube Evaporator
What is in Box:
Storm LGR Extreme Dehumidifier x1
Filter×1
User Manual×1
Power Cord x1
AlorAir® Storm LGR Extreme WIFI Video
Applications
The Storm LGR Extreme dehumidifier incorporates state of the art innovation technology to provide better dehumidification. It has passed professional testing and receives very feedback thanks to its ability to provide better results.
The Storm LGR Extreme dehumidifier is built to tackle any flood and restoration problem. Built with a waterproof molded exterior casing that protects the unit from the harsh moist environment the dehumidifier will be deployed.
The Storm LGR Extreme dehumidifier can be deployed for :
Carpet drying.
Laundries.
Basement and cellar dehumidification.
De-flooding.
Drying furniture.
Laboratories.
Garages.
Storage areas.
Industrial institutions.

---
All-purpose use
Capacity. - The Storm LGR Extreme dehumidifier can remove 85Litres at 30°80% Relative Humidity, with a current draw of 5.62 amps. This makes this dehumidifier one of the most energy-efficient units in the market today.
Performance.  - The Storm LGR Extreme dehumidifier can control the humidity levels in a space of up to 2,300 Sq. ft.
Why should you invest in The Storm LGR Extreme dehumidifier :
Low sound levels - The Storm LGR Extreme dehumidifier will only produce sound levels of below 55 DBA your space will remain comfortable.
Rare earth alloy Tube Evaporator – To avoid Freon leakage, a fatal flaw for a dehumidifier, AlorAir has introduced a Rare earth alloy Tube Evaporator. This innovative feature extends the life of the coils by providing protection against, maintaining the coil's heat transferability.
Humidity sensor - The Storm LGR Extreme dehumidifier is equipped with an auto-humidistat that allows the unit to automatically sense changes in the humidity levels and turn on and off depending on your set humidity level requirements.
Quick interior access - The Storm LGR Extreme dehumidifier allow you easy access to the mainboard and pump for easy maintenance.
Plug and play installation - The Storm LGR Extreme dehumidifier is built and designed to be a plug and play unit, you don't require to have any technical knowledge to operate this unit.
Small and compact - The Storm LGR Extreme dehumidifier is built small and compact, you can easily stack a number together. It is also fitted with heavy-duty strays for easy transport from one space to the other.
Air filtration - The Storm LGR Extreme dehumidifier is fitted with a MERV-8 filter for air purification, improving the indoor air quality.
Continuous pump drainage - The Storm LGR Extreme dehumidifier is fitted with a condensate pump that allows you to pump the collected water to a distance over 5 meters.
Warranty - The Storm LGR Extreme dehumidifier has a 5 years extended warranty. At alorair, all our dehumidifiers are built to provide superior performance and durability. Each unit is thoroughly tested, to ensure it is capable to meet the customer's expectations. Only after each dehumidifier has passed all the quality tests is it allowed to leave the warehouse.
Support – At Alorair, we have a team of highly trained user support teams, that are available to all our customers efficiently via email, phone, or live support. They are always ready to help any customer with any issue, inquiry, or challenge they face while operating any of our products.
---
The Storm LGR Extreme is a high COP dehumidifier, meaning this unit consumes less energy compared to other dehumidifiers in the market today. Save on energy! Control indoor humidity! Invest in a Storm LGR Extreme dehumidifier.

Details
| | |
| --- | --- |
| Power | 115V/60HZ |
| Current | 5.6A(115v/60Hz) |
| COP | 2.44L/Kwh |
| Size For | Up to 2,300 Sq.FT |
| Filter | MERV-8 Filter |
| Air flow | 210 CFM, 350 CMH |
| Sound Pressure Level | <58DBA |
| Refrigerant | R410A |
| Wheel | Portable Wheel |
| Draining | Condensate Pump |
| Defrosting Control System | Automatic Defrosting |
| Functioning Temperature Range | 33.8-105℉ |
| Functioning Humidity Range | 35~90% |
| Capacity115V(80ºF-60%) | 85Pints |
| Dim (L X W X H) | 22.8 x 17.3 x 13.6 in |
| Loading quantity | 20": 180 Sets;40": 412 Sets; 40" HQ: 515 Sets |


Shipping
FREE Shipping- All the Time.
Essential Living operates M-F and is closed Saturday-Sunday.
Usually Ships in 1-3 business days.
Orders normally are shipped out via UPS, FedEx, USPS and trucks.
Please contact sales@ecosenseliving.com with questions about shipping or order placement/processing. 
---
QUESTIONS & ANSWERS
Have a Question?
Be the first to ask a question about this.
Ask a Question
Powerful!!!
I just received this unit. It is surprisingly quiet compared to other dehumidifiers I have owned. And I have to say- as dehumidifiers go this one looks pretty cool. The yellow shell is really unique- I like it!
Satisfied with purchase
We put it in the crawl space of our building and it works very well. The crawl space is very humid and it is getting better and better now. very happy. Although it is small and compact, it works well.
Mute and powerful dehumidification
I usually don't leave reviews, but this dehumidifier left a deep impression on me. I have been using it for more than a week. Not noisy at all. Its noise is as quiet as the air emitted by other fans. In a house with a humidity of 70%, it can steadily discharge most of the water overnight.
Excellent machine
I like the features of Storm LGR Extreme, so I bought this dehumidifier. As the advertisement says. well-done. It removes excess water to keep the plant dry. Now I feel more comfortable in the factory. This has been running continuously for a week. No problem so far. worth buying.
Powerful, suitable for business and residential use
So far, so good. It's worked so well, we ended up purchasing the Ultimate pack for our building.