Estimated Arrival: Between Dec 10 and Dec 21. *ETA to USA Only
Shipping & Returns: Free Shipping. All The Time.
The Alorair Storm SLGR 850X is arguable, one of the most versatile and efficient dehumidifiers in use yet. The machine is a high COP air drier that cuts down on the cost of water damage restoration.
The Storm SLGR 850X dehumidifier is the perfect representation of the Alorair ability to deliver high performance, durable and reliable dehumidifiers. The Storm SLGR 850X dehumidifier is the perfect tool for any water damage restoration expert. Built to clear dampness and prevent any mold and mildew growth.

The Storm SLGR 850X dehumidifier is able to effectively maintain the humidity levels in a space of up to 2,300 sq.ft while maintaining comfort level as the unit will produce sound levels of below 58dBA.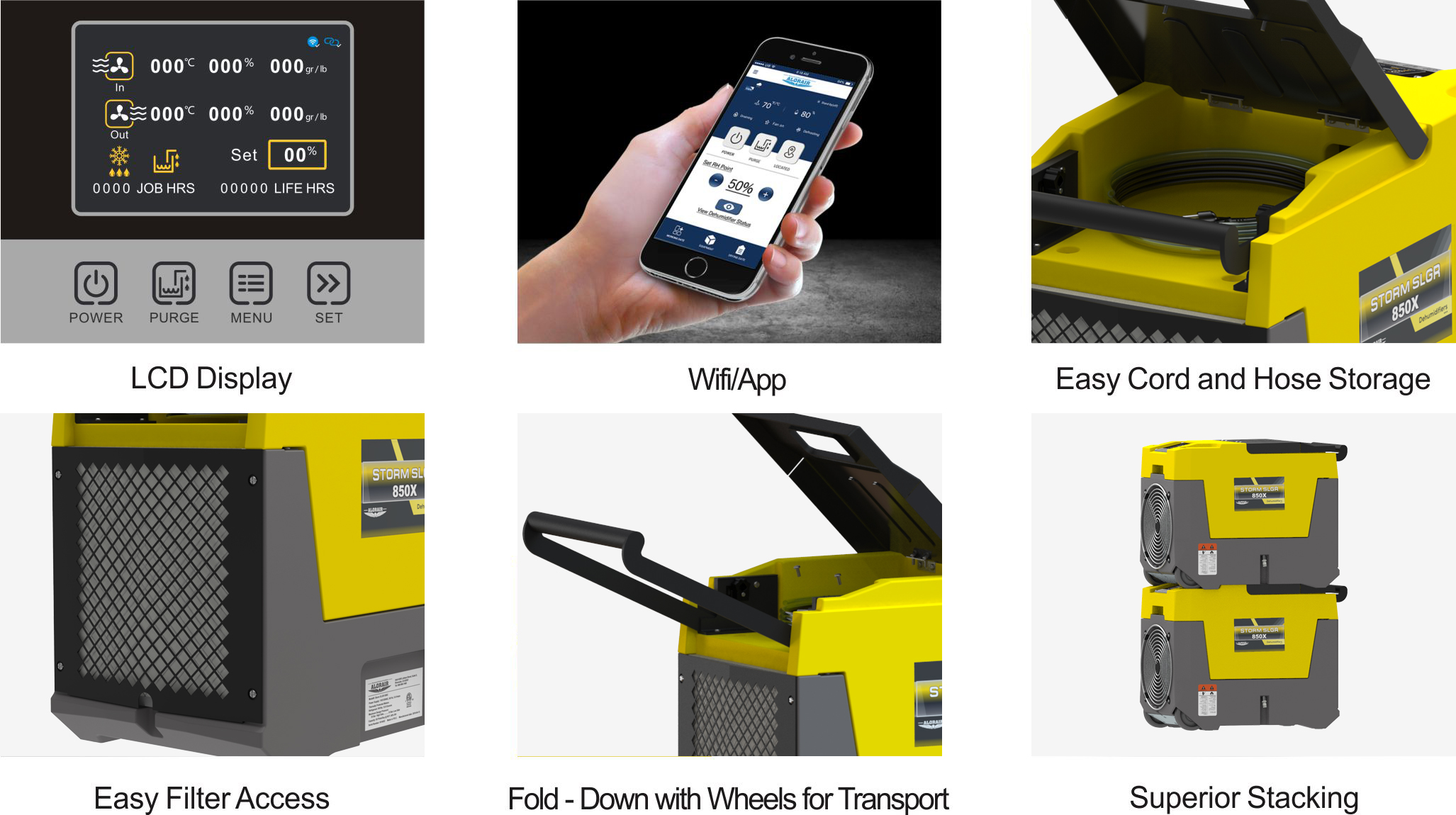 Key Features:
Water full protection.
Washable filters.
Easy installation ~ plug and play
Low temperature.
Memory staring.
Large diameter wheels.
Quiet operation.
Easy handling.
Size for up to 2,300 sq.ft
High capacity 85PPD.
New SLGR Microchannel technology.
Condensate pump.
Quick easy connector for a drain tube.
Convenient storage for cable and drain tubes.
Ducting option.
What is in Box:
Storm SLGR 850X Commercial Dehumidifier x1
User Manual ×1
AlorAir® Sentinel SLGR 1400X Commercial Dehumidifier Video

All-purpose use 
Capacity: The Storm SLGR 850X dehumidifier able to remove 85 pints per day (PPD) at 30°80% relative humidity (R.H.)
Performance. The Storm SLGR 850X dehumidifier is equipped with the latest dehumidification technology features to guarantee superior results.
The Storm SLGR 850X dehumidifier combines the following features:
Small and portable. - The Storm SLGR 850X dehumidifier is built small in size and compact. This portable design is made to make it easy to transport the dehumidifier from one place to the other. The Storm SLGR 850X dehumidifier is also equipped with 2 wheels that make it easy to move the dehumidifier from one location to the other.
Condensate pump - The Storm SLGR 850X dehumidifier is built with a condensate pump that is able to drain the collected water away to a distance of up to 19.6 Ft. This feature makes the high capacity dehumidifier easy to operate as it dries out a space of up to 2,300 sq.ft without you having to worry about emptying a collection tray.
Rugged design and superior stacking. - The Storm SLGR 850X dehumidifier is built with a rotationally molded body. This strong cover is meant to protect the unit from the harsh environment the dehumidifier is deployed. Its stackable design is meant to make this unit save space while been transported.
LCD display. - The Storm SLGR 850X dehumidifier is equipped with an LCD display that clearly displays the unit settings. The display has clearly labeled buttons used to adjust the unit setting.
Humidity sensor - The Storm SLGR 850X dehumidifier has an in-built humidity sensor in the bypass air design. This guarantees there are will be short-cycling making the dehumidifier 100% more effective.
Easy access to the internal parts. - The Storm SLGR 850X dehumidifier is built to allow easy access to the internal parts for easy quick maintenance. This unit is equipped with easily accessible washable filters that cleanse the air of any impurities to improve the quality of your indoor air.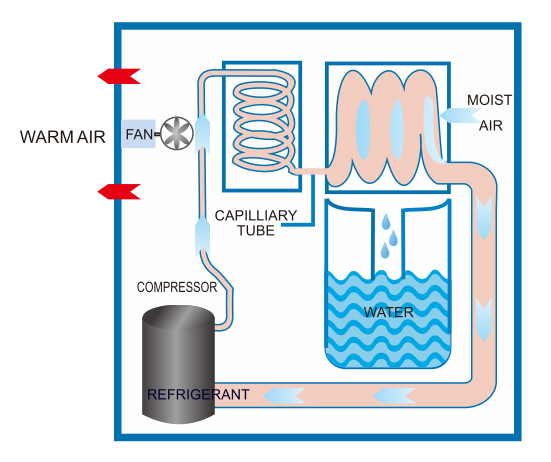 The Storm SLGR 850X commercial dehumidifier is the ideal investment unit to protect your commercial space from high humidity. Remember a comfortable work environment always leads to better productivity.
Application
Storm SLGR 850X Dehumidifier
Storm SLGR 850X Dehumidifier is a worthy solution to your flooding and high humidity problems. It is the machine you need to fix the water damage that occurs as a result of flooding and the myriad of complications that arise because of the high humidity in your room space.
You have probably seen that this is a larger make of the range of dehumidifiers made by Alorair. Therefore, the Storm SLGR 850X Dehumidifier can also comfortably be deployed for commercial use. Apart from flooding which is the conventional reason people have for purchasing a dehumidifier, there are times when out space becomes humid because of the laundry aired in it, dump carpets and wall covers. It can be used to clean furniture, carpets and even some types of mattresses.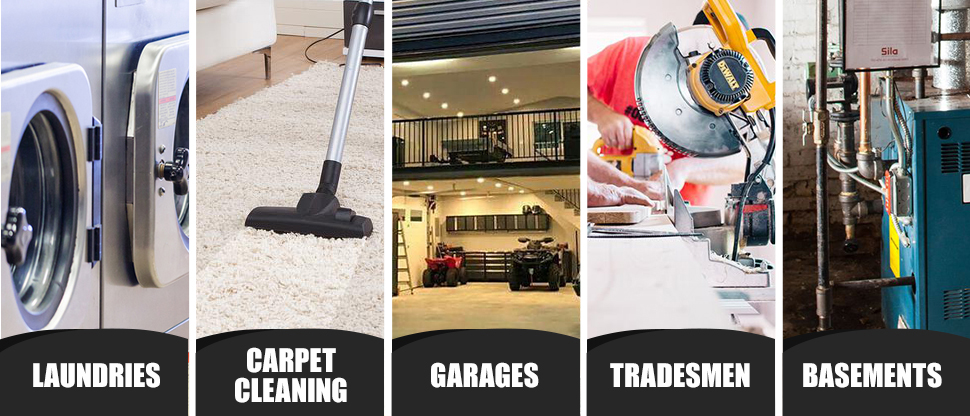 Warranty. - The Storm SLGR 850X dehumidifier has an extended 5-year warranty policy.
This unit is built using quality durable material and part. All dehumidifiers from Alorair are thoroughly tested, and any unit is only allowed out into the market once it has passed all the tests. This is to guarantee each dehumidifier is capable of providing decades of peak performance.
Support. – we at Alorair have a support team that is available to all our customers 24/7 via live chat, email, or phone. We are dedicated to helping our customers solve any challenges they encounter while operating any of our products promptly.
Why the need for a dehumidifier?
Huge costs are incurred every year through inflated building maintenance costs and damaged inventory as a result of dampness. ALORAIR dehumidifiers are effective solutions to environmental control problems. Excess humidity in your premises results in corrosion, mold growth, and condensation. By installing an ALORAIR dehumidifier controlled humidity conditions can be maintained to provide protection in larger commercial areas and buildings.
Details
| | |
| --- | --- |
| Power supply | 115V/60HZ |
| Current | 5.4A(115v/60Hz) |
| Filter | MERV - 8 Filter |
| COP | 2.88L/KWh |
| Air flow | 210 CFM, 350 CMH |
| Sound Pressure Level | < 58 dBA |
| Refrigerant | R410A |
| Draining | Condensate Pump |
| Dim(LxWxH) | 21"×11.6"×17.3" |
| Weight | 63lbs |
| Space Size | Up to 2,300 sq.ft |
| Loading quantity | 20":180 Sets / 40":412 Sets / 40"HQ :515 Sets |
Shipping
FREE Shipping- All the Time.
Essential Living operates M-F and is closed Saturday-Sunday.
Usually Ships in 1-3 business days.
Orders normally are shipped out via UPS, FedEx, USPS and trucks.
Please contact sales@ecosenseliving.com with questions about shipping or order placement/processing. 
---
QUESTIONS & ANSWERS
Have a Question?
Be the first to ask a question about this.
Ask a Question