Estimated Arrival: Between Dec 10 and Dec 21. *ETA to USA Only
Shipping & Returns: Free Shipping. All The Time.
Crawlspaces or basements tend to have increased humidity levels. This is mainly because these spaces are either partially or completely underground. Once the moist air comes into these spaces, the moisture condenses on the walls or floor. This causes increased dampness.
Increased dampness creates the perfect environment for increased dust mites and the growth of mold and mildew. According to the American lung association, these are known allergens that can cause respiratory problems and asthma.
Sentinel HDi90 dehumidifier is designed specifically for crawl spaces and basements. Low noise level, great COP,2.69 L/kwh, and huge capacity 90PPD at AHAM condition.

Draining Mode: Condensate Pump

Key Features:
Quiet operation.
Energy-efficient - Super COP Energy Star Listed 2.69L/Kwh.
Compatible with Remote Control.  (Notice: sold separately).
Ducting options.
Automatic Defrosting System.
Corrosion protection.
Overheating protection.
Engineered for low-temperature operation.
Rare earth alloy Tube Evaporator
What is in Box:
Sentinel HDi90 Dehumidifier x1
Filter ×1 
User Manual ×1
Applications
The sentinel HDi90 is horizontally configured, built with an advanced airflow design that makes this unit the best choice for dehumidification in tight spaces with airflow issues.
The sentinel HDi90 is uniquely built to be deployed in:
Residential spaces.
Restoration jobs.
Shop.
Storage facilities.
Garages.
Laboratories.
Offices
Crawlspaces.
Basements.
Capable of maintaining humidity levels controlled in any space below 2,600 sq. Ft.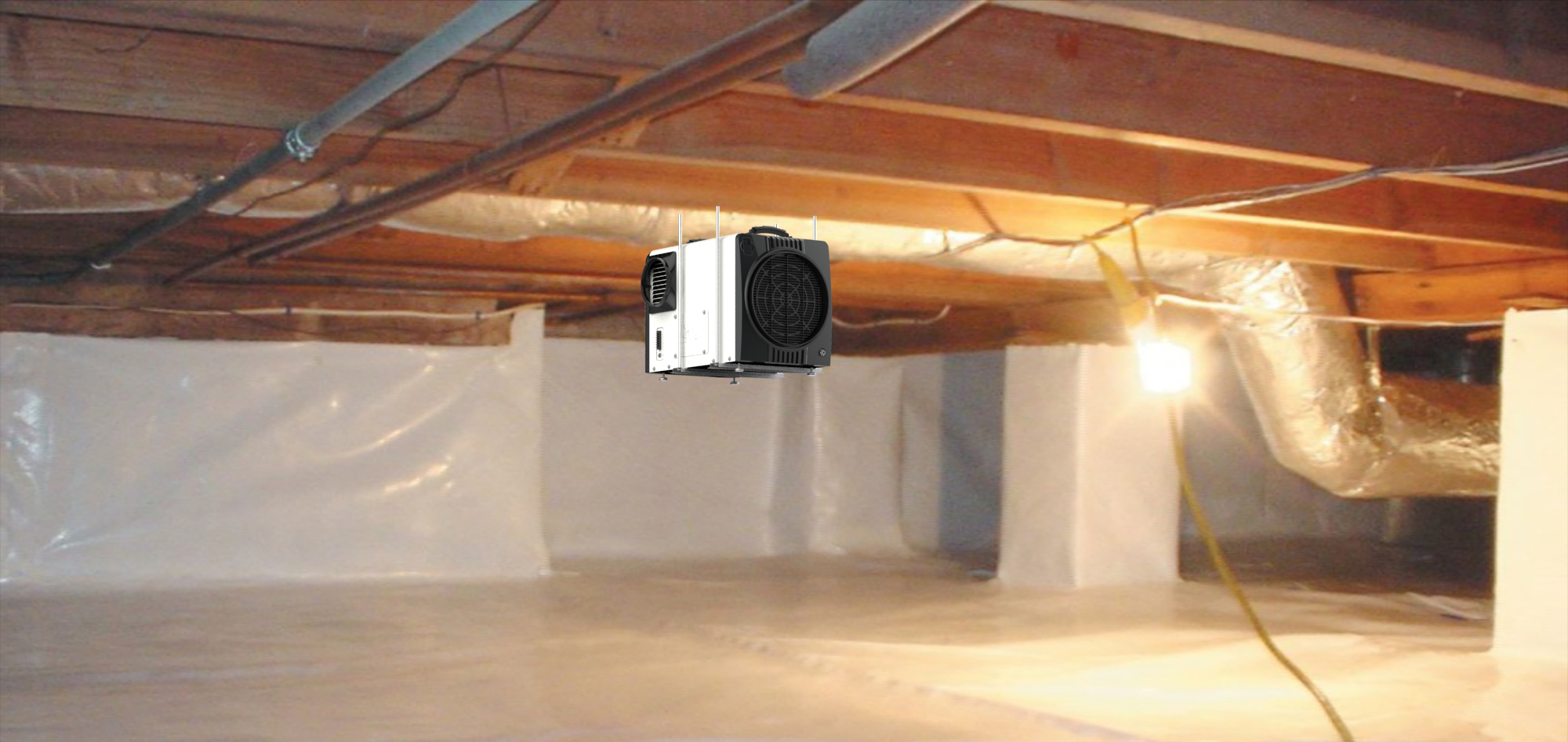 ---
All-purpose use
Capacity. - The sentinel HDi90 is able to remove:
90 pint of water per day(115V(80ºF-60%)
 This is impressive especially because of its small size and low energy consumption.
Performance. – The sentinel HDi90 combines a number of features to effectively lower the humidity levels. These features include:
Continuous Pump drainage - sentinel HDi90 is equipped with a condensate pump that is able to pump the collected water out of the unit via a pipe. This water can be pump at a distance of over 5 meters.
Durably built - The sentinel HDi90 has a corrosion protection layer that protects the unit from the corrosive environment in which it will be deployed.
Air filtration - The sentinel HDi90 has a washable filter that traps mold spores and other air impurities to improve the indoor air quality.
Silent operation - The sentinel HDi90 produces a low noise level while operational hence will not affect your comfort levels.
Defrosting system - The sentinel HDi90 has an auto defrosting system that increases the efficiency of the dehumidifier, especially in low temperatures.
Easy installation and set-up - The sentinel HDi90 allow a variety of installation option, all of which are easy and don't require you to hire a technician. This is a plug and plays appliance with no technical knowledge needed.
Duct options – A duct can be added to the sentinel HDi90 to provide focused dehumidification or allow you to dehumidify space where the dehumidifier can fit or you can use the duct to connect the sentinel HDi90 to the existing HVAC system for whole-house dehumidification.
Remote control - The sentinel HDi90 allows you to remotely adjust the dehumidifier setting remotely. This makes it convenient to operate a dehumidifier in a tight space. (Sold separately)
Warranty – The sentinel HDi90 has an extended 5 years warranty. At Alorair we have designed and built the sentinel HDi90 dehumidifier to exceed the customer quality expectations. All sentinel HDi90 units are thoroughly tested and proven to be fully functional.
Support – All Alorair customers get to enjoy efficient user support via email, phone, or live chat. We are dedicated to helping all our customers with any challenges they may face while operating the sentinel HDi90.
---
The sentinel HDi90 has lots of unique features that all combine to efficiently and effectively control the humidity levels! invest in the sentinel HDi90 today!
Details
| | |
| --- | --- |
| Power | 115V/60HZ |
| Current | 5.56A(115v/60Hz) |
| COP | 2.69L/Kwh(115v/60Hz) |
| Size For | Up to 2,600 sq.ft. |
| Filter | Clean Air Filter,HEPA,MERV-8 |
| Air flow | 210 CFM,350 CMH |
| Sound Pressure Level | <58DBA |
| Refrigerant | R410A |
| Feet | Adjustable Feet |
| Draining | Condensate Pump |
| Defrosting Control System | Automatic Defrosting |
| Functioning Temperature Range | 33~104℉ |
| Functioning Humidity Range | 35~90% |
| Capacity115V(80ºF-60%) | 90 Pints |
| Weight | 85.9 Ibs |
| Dim(LxWxH) | 23.2x15.2x17.7in |
| Loading quantity | 20":180Sets/40":412Sets/40"HQ :515Sets |


Shipping
FREE Shipping- All the Time.
Essential Living operates M-F and is closed Saturday-Sunday.
Usually Ships in 1-3 business days.
Orders normally are shipped out via UPS, FedEx, USPS and trucks.
Please contact sales@ecosenseliving.com with questions about shipping or order placement/processing. 
---
QUESTIONS & ANSWERS
Have a Question?
Be the first to ask a question about this.
Ask a Question
Powerful dehumidifier
We have tried other brands. With our new unit, Model HDI90, it brought the rh down to 38, which we never could previously. Plus, it cycles on and off, runs as needed.